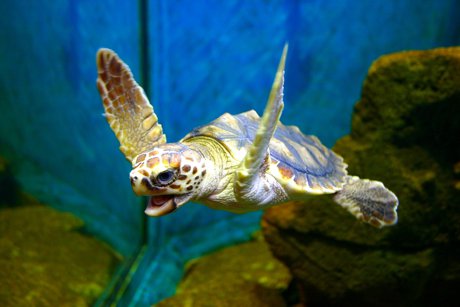 When living in Boca Raton it's easy to get back to nature and enjoy the local wildlife. At the heart of the community lies the Gumbo Limbo Nature Center which welcomes one and all inside the doors. The perfect place to unwind, this amazing haven dissolves daily stressors and revitalizes those in its midst. Folks stroll about the boardwalk taking in the fresh air, flora and fauna. Beautiful aquariums are filled with countless species of colorful fish causing guests to marvel at the wonderful diversity of the nearby ocean.
Science thrives in the nature center. Visitors are surrounded by educational exhibits highlighting the world around them. The sea turtle exhibit relays their life cycle and how to help them in the wild. Container gardens grow green, and there are two here. One features local plants and the other popular herbs. Over at the rain barrel water conservation can't be stressed enough. Astronomy buffs are in their element as they delve into the solar system display. Friendly staff at the welcome desk are always on hand to offer tips and information.
Butterflies Flutter About Their Boca Raton Home
In the northern part of the grounds, a favored spot to linger is in the Butterfly Garden. Located along the Ashley Trail the garden provides a Boca Raton home to a fascinating array of butterflies. The best time to visit is during May and June when the garden is in its peak blooming season. Different kinds of butterflies fluttering about include Florida's state butterfly the zebra longwing, monarchs and sulphurs. Wanderers in the garden come across the Seminole Chiki. This unique structure was crafted with thousands of cabbage palm fronds and provides an outdoor classroom for the center. Nearby lies the Intracoastal Waterway where lucky viewers may observe an elusive manatee, heron or sea turtle.
Adopt a sea turtle when living in Boca Raton. The Gumbo Limbo Nature Center fights hard to save these little guys. Conservation is key and Florida residents do their part to assist the beloved creatures. Keeping an eye on miles of local beaches, marking nests, doctoring sick and injured turtles, as well as assisting stranded turtles are just a sample of how this organization helps Mother Nature.